For small businesses, ranking on page 1 of search results is crucial. The first website in Google search results has an average CTR of 28.5% while tenth position has an average CTR 2.5%. But how to get ranked on the top? As a business owner who needs SEO services, you may think it's some expensive and complicated technology that you have to invest in to get your website on top. However, there are several SEO tools for small businesses that can help improve their website's ranking without huge investments. Some of the best SEO tools for small businesses include Google Analytics, SEMrush, Ahrefs, Moz, Answer the Public, Screaming Frog and more.

By utilizing these best SEO tools for small businesses, you can increase your website's visibility and drive more traffic to your website.

In this article, we'll share 10 best SEO tools for small businesses to get their website to show up in top search results.

Ready to dive in? Let's get started.
What Are SEO Tools?
Best SEO tools for small businesses are designed to enhance a website's visibility and ranking on search engines like Google, Bing, and Yahoo. These tools are used for a number of tasks:
Keyword Research: Analyze and identify relevant and profitable keywords for the website.
Data Analytics: Provides insights into website traffic and user behavior, such as how long visitors stay on a page and which pages they view most often
Site Audit: Analyze your website to assess on-page SEO, technical problems, internal link metrics, and backlink information.
Technical SEO: Identify and fix technical SEO issues that impact rankings
Content Marketing: Develop content strategies and identify content gaps
Link Building: Help identify opportunities to build healthy links
Position tracking: Keep track of the positions of your web pages for specific keywords
& many more.
Best SEO Tools For Small Businesses In 2023
Below, we have shared a list of the best seo tools for small businesses. However, please note that not every tool is suitable for all types of businesses. You must choose an SEO tool based on your business model, SEO goals & objectives.

If you want to grow your small business, SEMrush is a must-have.
It's among the best SEO tools for small businesses that allows you to run SEO, content marketing, social media marketing, and PPC campaigns.
You can use SEMrush to:
Keyword research
Competitor analysis
Finding keyword gaps
Finding content gaps
Searching for backlink opportunities
Identifying broken links
Identifying industry trends
Analyzing on-page SEO
Providing optimization suggestions for pages
Detailing keyword performance and areas for improvement.
All of these functions make SEMrush a versatile and valuable tool for optimizing a website's SEO and improving its search engine rankings.
If you don't have enough budget to spend on multiple best SEO tools for small businesses, this one-in-all digital marketing tool is worth adding to your toolkit.
Price: It costs between $99 – $374 depending on the plan you choose.
Ahrefs is another amazing all-in-one SEO tool that offers a range of features aimed at enhancing a website's search engine ranking and overall performance. It primarily functions as a backlink checker, scrutinizing your linking profile.
This tool can do:
Keyword research
Site audit and optimization recommendations
Backlink analysis
Competitor analysis
Content analysis and research
Rank tracking
SERP analysis and tracking
Domain comparison
Broken link identification and management
SEO metrics monitoring and reporting
Keyword rank checker
Content Explorer for discovering popular content
Site Explorer for analyzing a website's link profile and traffic data.
This tool is famous for backlink opportunities as its major strength lies in its ability to find amazing backlinks. In addition to that, it can monitor your keywords, assess your domain rating, track referring domains, and analyze your competition. These insights provide valuable information to shape your SEO strategies and upcoming marketing campaigns.

Ahrefs offers a free trial but it also offers affordable packages for small businesses.

Price: It costs between $99 – $999 depending on the plan you select.

Google Analytics (a tool designed by Google) monitors your webpage. It provides you with valuable data on your website metrics, including who is visiting your site and how they are engaging with it.
Google Analytics helps you do:
Website traffic analysis and reporting
Audience analysis, including demographics, interests, and behavior
Acquisition analysis, including traffic sources and campaigns
Behavior analysis, including pageviews, bounce rate, and time on site
Conversion analysis, including goals and ecommerce tracking
Real-time reporting for monitoring website activity
Customizable dashboards and reports
Integration with other Google products, such as Ads and Search Console
Event tracking to measure user interactions with website content
User flow analysis to track visitor navigation patterns
Site speed analysis to identify and optimize slow-loading pages
Segmentation and filtering options for more granular analysis.
By utilizing Google Analytics, you can make informed decisions on your digital marketing strategies and optimize your website for better performance.

Price: It's a free SEO tool offered by Google.
Google Search Console is a free SEO tool by Google that provides alerts for website errors and offers key stats like keyword rankings.
Google Search Console helps you with:
Monitoring website performance in Google search results
Tracking website traffic and clicks from search
Identifying and resolving website errors and issues that affect search performance
Submitting sitemaps and individual URLs for crawling
Analyzing website search traffic data, including queries, pages, and devices
Identifying top-performing pages and queries
Monitoring backlinks and managing disavow files
Measuring website speed and mobile usability
Receiving alerts for manual actions, security issues, and indexing problems
Access to crawl statistics and index coverage reports
You can also link Search Console with Analytics to access additional reporting tools, such as keyword rankings, click-through rates, impressions, and landing page insights, directly in your Analytics account.

Price: It's a free SEO tool offered by Google.
MozBar is one of the best SEO tools for small businesses that can save much time when reviewing websites. It's a Google Chrome extension that enables you to effortlessly see a website's Domain Authority, Page Authority, backlink data, and spam score. By just clicking a button, you can also access a Moz page analysis, as well as followed and no-followed links on a page.
Moreover, this tool helps you do:
Keyword research and analysis
Site audit and optimization recommendations
Backlink analysis and tracking
On-page optimization analysis and recommendations
Link building tools and resources
Page authority and domain authority metrics
Spam score to identify high-risk or spammy links
Keyword explorer for discovering new keyword opportunities
Local SEO tools for optimizing location-based searches
Overall, MozBar is a simple yet effective tool for gaining valuable insights into a website's performance and backlink profile.

Moz Pro is a comprehensive suite that comprises numerous tools, including Link Explorer, an analysis tool for backlinks. However, it's worth noting that no single tool can provide a 100% accurate representation of all your backlinks or your competitors' backlinks. Therefore, we suggest using multiple tools like Ahrefs, Moz, and others to obtain a complete understanding of your backlink profile.

Price: It costs between $99 – $599 depending on the plan you choose.
Answer The Public is also on our list of the best SEO tools for small businesses. It helps businesses and marketers gain valuable insights into their target audience's search behavior. You only need to type in a keyword, and it will give you a list of question-focused long tail-keyword that people are searching for related to that keyword. It:
Generates ideas for content creation based on popular search queries and topics
Provides visualizations of search query data in the form of a web of related topics and questions
Segments search queries by prepositions such as "with," "for," "to," etc.
Helps to identify long-tail keyword opportunities and question-based queries
Helps to generate content ideas for social media posts, blog articles, and website copy
Provides a downloadable list of suggested keywords and questions for a given topic
Provides a free version with limited searches per day and a paid version with more features and search volume
Overall, Answer The Public is a powerful tool that can help businesses of all sizes improve their SEO and digital marketing efforts.

Price: It costs between $9 – $200 depending on the package you subscribe.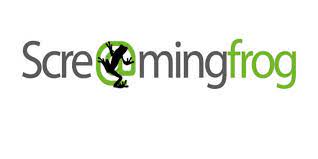 Screaming Frog is considered one of the best SEO tools for small businesses. It's a powerful site crawler that scans websites and provides comprehensive reports on SEO-related elements that may impact the site's search engine ranking.

If you want to improve your SEO rankings, Screaming Frog should always be part of your toolkit. It performs the following functions:
Website Crawling: The tool crawls a website to discover its pages, URLs, internal links, external links, images, and other assets.
URL Analysis: It analyses the URLs and provides information like page title, meta description, H1, H2 tags, and other on-page SEO elements.
Broken Link Checking: It identifies broken links (404 errors) on a website and reports them to the user for fixing.
Site Audit: It performs a comprehensive site audit to identify technical SEO issues such as duplicate content, canonical tags, XML sitemaps, robots.txt, etc.
Redirect Chains: It detects redirect chains and loops and helps you fix them for better SEO performance.
XML Sitemap Analysis: It helps you identify issues with your XML sitemaps and ensures that they are correctly configured and submitted to search engines.
Analytics Integration: It integrates with Google Analytics, allowing you to analyze data and track website performance.
Custom Extraction: You can extract any data from a website using custom extraction options. This can be useful for competitor analysis or data gathering purposes.
Visualizations: It provides visual representations of data, allowing you to quickly identify trends and patterns.
What makes Screaming Frog truly remarkable is its ability to pinpoint these issues, allowing you to focus on resolving them instead of tediously inspecting each aspect of your site or making changes blindly.

Price: Screaming Frog offers a free version but it lets you crawl up to 500 URLs only. The paid version costs $198.70 a year but the price varies depending on the license type and usage.
Yoast is a popular SEO plugin for WordPress that provides a wide range of features to improve website visibility in search engine results pages (SERPs). The plugin is designed to help website owners optimize their website content for both users and search engines, making it a powerful tool for improving website traffic and engagement.
Some of the main functions of Yoast are:
Content Analysis: Yoast analyzes content for readability, SEO, and overall quality, providing tips and suggestions for improvement.
SEO Snippets: Yoast helps you create optimized meta titles and descriptions for your content, providing a preview of how your pages will appear in SERPs.
Keyword Optimization: Yoast helps you optimize your content for specific keywords, providing suggestions for how to use them effectively in your content.
Internal Linking Suggestions: Yoast suggests relevant internal links to help you build a strong site structure and improve user engagement.
XML Sitemap: Yoast creates and manages your XML sitemap, ensuring that search engines can easily find and crawl your website content.
Redirects: Yoast helps you manage redirects, ensuring that your website visitors can easily access your content even if the URL has changed.
Multi-Language Support: Yoast supports multiple languages, making it easy to optimize content for global audiences.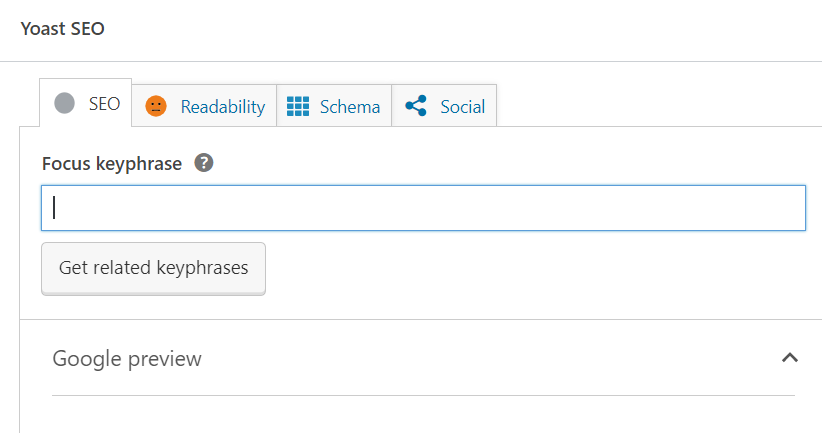 Yoast is easy to use, even for those without a deep understanding of SEO, and provides a range of tools that make it easier to optimize content for search engines.
Price: Yoast free version is available. However, you can also subscribe to premium version that costs $99/year.
Ubersuggest is an all-in-one SEO tool designed to help website owners and digital marketers improve their search engine rankings and drive more organic traffic to their websites.
With this tool, you can:
Keyword Research
Competitor Analysis
Site Audit:
Backlink Analysis
Rank Tracking
Content Analysis
Site Traffic Analysis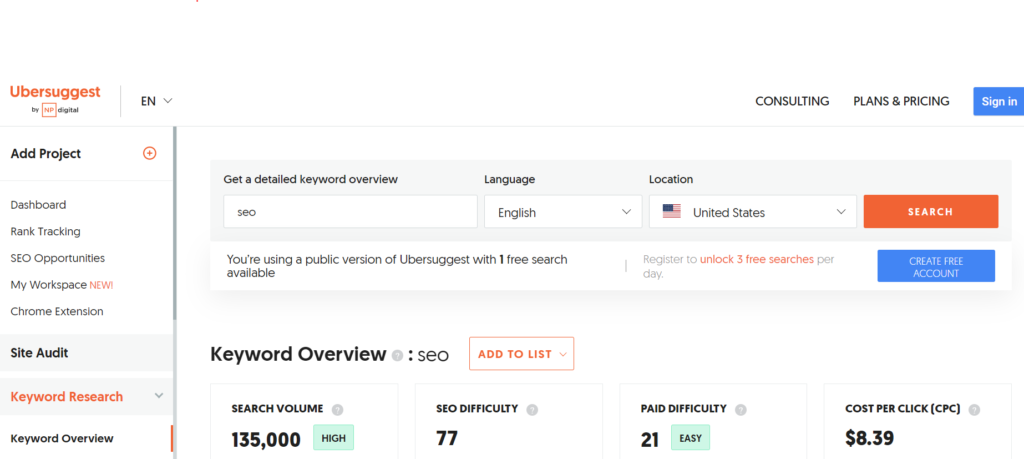 With its easy-to-use interface and comprehensive data, Ubersuggest is an excellent choice for anyone looking to improve their SEO strategy and achieve better results.
Price: The tool costs $12 – $40 per month based on the plan you choose.
How to Pick the Best SEO Tools For Small Businesses?
Like we mentioned earlier, not every tool is suitable for your business. Before you decide on the best SEO tools for small businesses, consider the following factors:
Your Business Needs: Before selecting SEO tools, you need to understand your business's specific requirements. Consider your website's size, the level of SEO expertise in your team, and your budget. Knowing your business needs will help you choose the right SEO tools that align with your goals.
User-Friendliness: Look for SEO tools that are easy to use and understand. It is essential to consider the user-friendliness of the tool as it can save you time and money.
Look for Comprehensive SEO Tools: Select SEO tools that provide a comprehensive set of features. Look for tools that offer keyword research, competitor analysis, backlink tracking, site auditing, and other essential SEO functions.
Check for Integration: Consider SEO tools that integrate with your existing marketing stack. Choose tools that can seamlessly integrate with other marketing tools like analytics, social media, or email marketing platforms.
Pricing: Compare the pricing of different SEO tools and select the one that offers the most value for money. Some SEO tools have a free version or offer a trial period, which you can use to evaluate their effectiveness.
Conclusion
Having access to the best SEO tools for small businesses can be a game-changer. The list of 10 best SEO tools for small businesses highlighted in this article can provide valuable insights, data, and optimizations to boost SEO efforts and achieve better search rankings.
Do you need SEO services for your business? AdRush Digital is a full-service digital marketing agency that offers a free SEO audit to websites and provides recommendations to improve your ranking in the search engines. Get a free SEO audit for your website today.