As of 2020, the deadly COVID-19 pandemic has disrupted various businesses and lives worldwide. The market crashed globally, and a lockdown was imposed to contain the wildfire spread of the virus. Not only did these factors increase unemployment rates, but they also added complications to the survival of small businesses. The graph below shows the change in employment by income level from January 2020 till August 2020.
Small businesses took the hardest hit during this economic recession. However, all is not lost, and there are a number of things you can do as a small business owner to ride out this difficult time. Here are 6 of them:
1. Utilize Government Aid
Although inflation rates were high and sales were extremely low, governments worldwide have stepped up and taken various initiatives to financially support their small business community, such as relief funds, tax refunds, and low-interest loans.
As a business owner, you need to stay up-to-date with your government's COVID-19 relief strategy and incentives. Supposedly, some administrations are offering loans up to $350,000. Therefore, regularly check your local city or state website as you'll need to make the most of the financing options available to you.
2. Plan Your Long-Term Strategy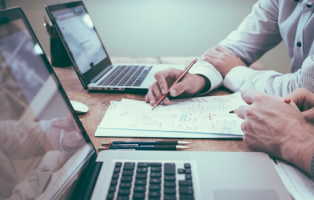 Many businesses like yours are finding it difficult or pointless to plan ahead as they're not sure how events will unfold in the coming months. However, you shouldn't give up hope, and instead, make the most of this time to reevaluate and rebuild the long-term strategy for your business.
You could use SMART goals to aid you along with effectively communicating with your partners, shareholders, and suppliers.
Moreover, try to decipher various ways to stay financially stable until your business can follow its regular track. Next, you should plan a three to five-month financial statement. This will help you discover ways to spread out your cost.
As a small business, your expenses are most likely payroll costs, rent, utilities, office equipment, and taxes, to name a few. In fact, during such unstable times, you must find your essential expenses that should be paid while other variable expenses can be delayed.
3. Shift to Digital Marketing (PPC, SMM, SEO)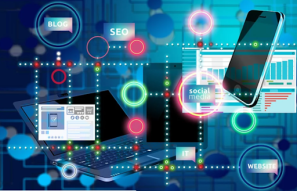 With you and most of your clients now stuck at home, conventional marketing is not going to yield the same results as it used to. As of 2020, if you were still on the fence about implementing a digital marketing strategy, now would be a good time to go all-in.
During the global pandemic, many businesses sprung for online marketing due to the lockdown. The Drum estimated an increase of 4.2% in global ad spending from 2019 to 2020, almost $605 billion.
Whether it's through Performance Marketing, Search Engine Optimization (SEO), or Social Media Marketing, there are many ways you can benefit by going digital. Online marketing is not only an effective way to generate leads, drive conversions, and boost sales, but it can also increase your firm's long-term profitability.
To learn more about how online marketing can help your business in particular, get in touch with one of our team members. We'd love to help you.
4. Upskill Your Team
The success of your business depends a great deal on your staff's proficiency. Even as a small business owner, you need an efficient team of employees. We, therefore, recommend that you upskill your workforce as it will help you boost productivity and profitability.
During the lockdown, encourage your team to sign up for free online courses on websites like Coursera, Hubspot, and edX. Additionally, you can host webinars on Zoom or Google Meet for a more personalized and hands-on training experience.
Not only is online learning an effective way to stay productive while social-distancing, but also it will boost your firm's overall efficiency.
5. Discover New Opportunities
If your business has been disrupted due to COVID-19, do not panic and look for new opportunities instead. You can even turn to your competitors to see how they're managing to stay stable during these trying times.
This year we saw many businesses overcome the odds in a number of creative ways. Various small businesses started offering discounted prepaid services and gift cards, thus increasing their cash flow.
Also, many businesses in the food industry introduced DIY Meal Kits. This was a huge success, as many customers were able to enjoy their favorite meals in the comfort of their homes. Not only did this promote social distancing, but it also helped make the company more profitable.
Suffice to say, this lockdown could be a wake-up call for your business as you can innovate by introducing customer-friendly products and services.
6. Add COVID-19 Updates
First, add COVID-19 updates on your business's website and social platforms. This entails details on hygiene practices followed by any changes to the services you offer.
Adding work hours specifics along with ways to support your small business will also be beneficial for you. Next, incorporate or update your online business description. Make sure to mention if any of your services or events have been delayed or suspended, along with your involvement in the community, etc.
Next, if your business's events are canceled, then it would be a good idea to refund your clients. This will provide them with a measure of relief and help you forge a stronger relationship with them.
While many of the steps mentioned above won't guarantee your business's survival overnight, you will eventually see results in the form of improved customer relationships, enhanced business stability, revamped efficacy, and operation productivity.
We wish you good luck and hope these tips will prove beneficial for your small business.