We use social media for everything from getting news updates and staying connected with loved ones to online shopping and entertainment. In 2020, usage was at an all-time high, largely due to the global pandemic and the resulting lockdown, and this number will only increase in the coming years.
Statista reported that there were 3.6 billion social media users in 2020, and this number is expected to reach 4.41 billion by 2025.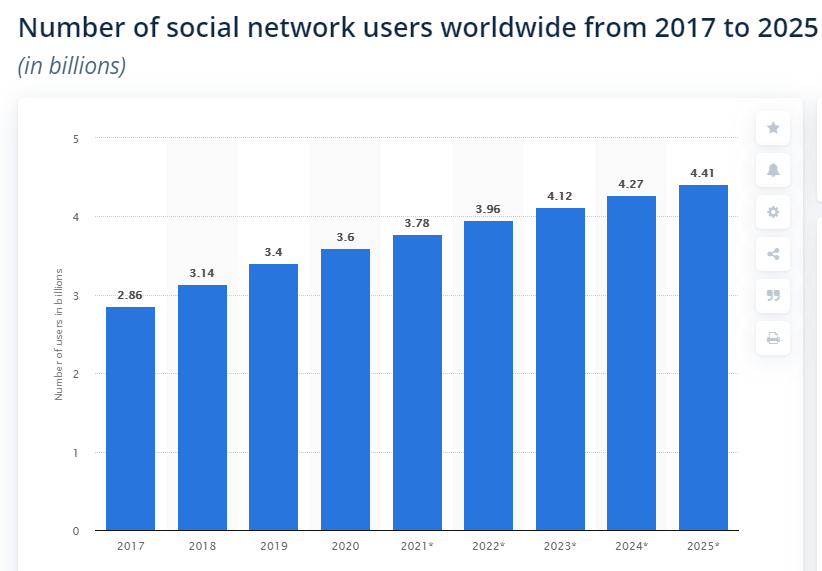 As a marketer, you need to stay up to date with the latest trends in social media advertising, and we're here to help. Let's dig in!
1. Conversational Marketing Will Soar:
Conversational Marketing refers to the engagement of a brand with its prospects and customers in real-time. With the number of customers who prefer having sufficient information before investing in a product or service on the rise, 2021 will see more brands relying on this mode of marketing to satisfy them.
For successful conversational marketing, you should try to make your customer interactions as personalized and engaging as possible. Focus more on educating customers about your products, helping users with their queries, and conversing with them in a more empathic and thoughtful tone.
Incorporate both AI and human elements for best results. While chatbots offer prompt responses, you don't want to miss out on the thoughtfulness and reliability that only humans can bring to customer interactions.
2. A Rise in Snackable Content:
Snackable content refers to straightforward, easily digestible, and short-form content that can instantly be shared on social media while being passively consumed. It is designed to be viewed anytime, anywhere on any device and may include text, videos, images, gifs, among other things.
The purpose of snackable content is generally entertainment, prompt social sharing, and boosting lead generation. 2020 saw a huge rise in snackable content in the form of Instagram Reels and TikTok videos along with an increase in engagement through stories on social media platforms like Facebook, Snapchat, etc.
Therefore, don't expect snackable content to lose steam in 2021 as it will only grow more popular as brands turn their focus towards educating customers about their brand. Shrinking attention spans and a penchant to scroll endlessly among users are also likely to be contributing factors for this upsurge.
3. Brand Authenticity Will Be Crucial:
Another thing the global pandemic made clear was that big discounts are no longer enough to sway customers towards a brand. However, brand authenticity and values still are and will continue to play a major role in this regard.
2021 will see all brands incorporating authenticity on social media to gain their audiences' trust as it will become detrimental to their success.
People are more likely to trust and engage with a brand that is vocal about social causes and prioritizes giving back to society. As a brand, you must embrace authenticity and make sure to highlight your values and what matters most to you on social media.
4. Video Content Will Take Center Stage:
According to a report, 87% of marketers already use video content for marketing as it's considered to be the most engaging type of content on social media.
Video content is expected to form 82% of internet traffic by 2022 while consumer video traffic is predicted to reach 81% in 2021. Not only is video a great tool for brand storytelling, but it can also boost your authenticity and trust.
Since major social media platforms like Instagram, Facebook, TikTok, LinkedIn, and Twitter are continuously amping up their video content, marketers should expect high video consumption in 2021.
5.Advancing AR and VR:
AR & VR Gaming saw an upsurge during COVID-19's heaviest lockdown months. Oculus, a subsidiary of Facebook, launched various VR products this year and surpassed $100 million in VR content sales. Moreover, various firms are also discovering new ways to conduct key operations using VR.
Similarly, Facebook announced its wearable AR glasses "Project Aria" to be available in 2021. AR is expected to become a key battleground in the gaming industry as both Apple and Facebook are developing a fully immersive AR environment with new ad types and cues.
6. Social Media for E-commerce Will Reach New Heights:
Social media platforms like Instagram, Facebook, Twitter, TikTok, and Snapchat helped many businesses go completely digital in 2020 and provided them with expanded E-commerce business opportunities.
Facebook Shops and Instagram shops facilitated the purchase of a product instantly without leaving the apps. Instagram is expected to add a one-click purchase option, new AR try-on tools, video tags, and AR shopping options soon. Not only will these advancements facilitate businesses but also transform the E-commerce industry.
7. Live-Streaming Will Become More Mainstream:
The video streaming industry is predicted to reach 184.3 billion by 2027. Various brands use Facebook, Twitch, Instagram, and Twitter live stream options to host Q&As, tutorials, offer discounts, and other advertising content.
Live-streaming is a great strategy to increase brand awareness and user engagement. Marketers should incorporate live-streaming in their advertising strategy as it is expected to peak in 2021.

So that's about it from us. If you find these social media trends overwhelming and need help incorporating them in your marketing strategy, schedule a FREE Consultation with AdRush today.
We are a full-service digital marketing agency excelling in Social Media Marketing, Email Marketing, Content Marketing, Search Engine Marketing, and Search Engine Optimization (SEO).