As of 2020, Facebook has over 1.82 billion active users and over 2.7 billion active monthly users. Therefore, if you're an entrepreneur or a business owner, you're missing out if you haven't incorporated Facebook advertising in your marketing strategy yet. Research has shown that 92% of marketers already use Facebook for advertising. While there are several different ways Facebook can help you showcase your products and services, we'll be exclusively focusing on Facebook Dynamic ads, how they work, and how you can set them up.
What are Facebook Dynamic Ads?
Facebook Dynamic ads were introduced in 2015. They help elevate your advertising by combining Facebook's remarketing with market automation to show relevant ads and content to customers with different interests. For instance, a user who is fascinated by makeup products will be shown ads of various cosmetic brands. Conversely, a sports enthusiast will be shown sports products, supplements or equipment.
Dynamic ads utilize machine learning to scale your advertisements when your firm has a broad audience or high product volume. These ads simplify the marketing process since you don't need to create individual ads for every product.
Facebook automatically markets your product or service according to a user's behavior and interests, among other things. With Dynamic ads, you design a single campaign that results in increased conversions on your website or app. Long gone are the days when you had to manually design 1000s of ad sets. Now you can instantly create a catalog of all your services or products.
Moreover, Facebook dynamically generates customized ads whenever a customer shows interest in a specific catalog item. Dynamic ads are optimized for mobile, desktop, tablet, and so on.
Dynamic ads appear just like any other Facebook advertisement such as single image, carousel, collection ads, Instagram ads, and Audience Network ads.
These ads offer two options to target your customers across various stages of the customer's purchase journey. Dynamic ads for a broad audience target customers that have not yet purchased from your business. Next, Dynamic retargeting ads target customers that have shown interest in specific products or services on your app or website however did not complete a purchase. Such ads encourage them to complete the desired action. Retargeting ads not only increases your brand awareness but also boosts the percentage of returning visitors.
Why You Should Set Up Dynamic Ads
Dynamic ads have various features that can help you achieve your business goals by promoting the right product to the right customer at the right time. These features include personalization, retargeting, lead generation, and automation.
Dynamic ads are highly personalized and can be used to deliver relevant creative and content to clients. Furthermore, Facebook retargets your promotions to both web and mobile shoppers to remind them to complete a purchase.
Also, they boost lead generation by helping you reach potential customers more effectively. Further, you can attain better conversion rates and click-through rates (CTR) compared to static banner ads.
Facebook also lets you integrate your Dynamic ads with e-commerce websites based on Shopify, Magento, BigCommerce, or WooCommerce.
How Dynamic Ads Work
Facebook allows advertisers to use their analytics tool and a snippet of code (Facebook Pixel) to measure the effectiveness of their marketing efforts. You can configure a Facebook Pixel on your website or set up the Facebook SDK (software development kit) for your mobile app. Both the Pixel and the SDK help Facebook monitor your website/app traffic and user actions on each platform.
After code integration, you can upload your catalog with required information such as location, price, and availability. The Pixel code on your website provides Facebook with information every time a user visits your website even if they don't complete a purchase. Similarly, Facebook can also receive information about what particular products that a user interacted with.
This information gathered by Facebook can be used to create custom audiences that target all website visitors or retarget users who visited a certain page or performed a specific action on your website.
The next time these users log into Facebook, they will see ads about your business based on their prior interactions and can thus return to your website to make a purchase decision.
Dynamic Ad Requirements
Although running a Dynamic ad is fairly simple, you need to first set up your Facebook Dynamic Product Catalog.
For setting up the Facebook Dynamic Product Catalog, you'll first need to configure Facebook Pixel on your website. Follow these steps:
1. Install Facebook Pixel
2. Go to Ads Manager and click "Pixels"
3. Click on "Create a Pixel"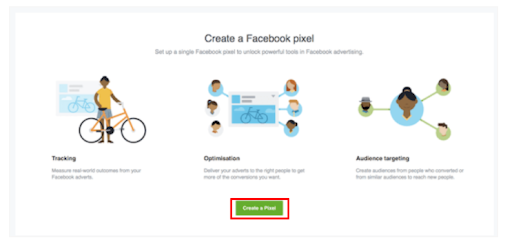 4. You'll now see a code snippet that you need to copy and add to the header section of your website to integrate it with Facebook.
5. Add the events that you'll like to track. Events are actions users take on your website, such as completing a sign-up form, add to cart, purchase, and so on.
6. Next up, you need to create your Facebook Product Catalog. This should include product ID, name, category, availability, product URL, image, price, and brand. Go to Ads Manager then click "catalogs" under Assets.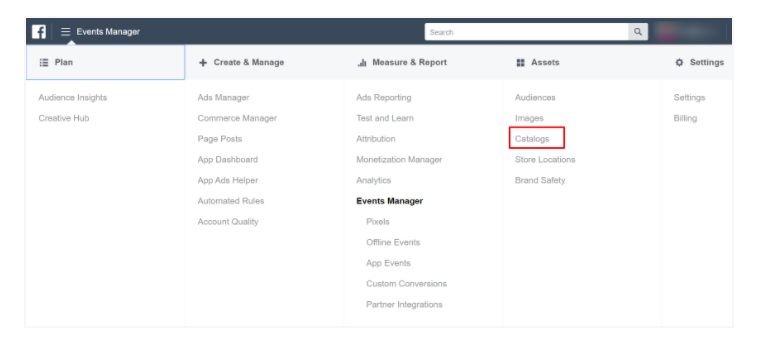 7. Choose a category that best describes your business and then click next
8. The next step is configuring your catalog settings. Upload your product details using a form or Facebook Pixel. Manual upload is recommended for small businesses, while automatic imports might be a better choice for large enterprises. Type your catalog name and click 'create'.
How to set up Facebook Dynamic Ads
After setting up the Facebook Dynamic Product Catalog, you can run the Dynamic Ads. Let's explore this in detail:
1. The first step is creating a product set.
2. Click on "create product set"
3. Choose your audience. It is recommended to initiate with a broad audience.
4. Choose your budget and ad placements. Facebook recommends going with automatic placement. Next, depending on your particular goals for this campaign, enter your ad budget.
5. Choose your Instagram account and Facebook business page where you want to run your campaign.
6. Next, choose the ad format. Three different options include a single image, collection, and carousel.
7. Then fill out the ad copy. This will include information on product description, product name, and so on.
8. Click confirm after you have completed your ad copy.
Your Dynamic ad is now live and ready to be viewed by potential customers.
Final Thoughts:
In conclusion, Facebook Dynamic ads should be part of your marketing strategy as they allow for a more personalized and targeted approach for bringing visitors to your website or app.
Moreover, they help you save time and boost your Return-On-Ad-Spend (ROAS) and Key-Performance-Indicator (KOI).
If you are overwhelmed with Facebook advertising, you should consider hiring professionals. AdRush is a full-service digital marketing agency that provides Social Media Marketing, Email Marketing, Content Marketing, Search Engine Marketing, and Search Engine Optimization (SEO)
If you need assistance setting-up your Facebook Dynamic ad campaign or Social Media Marketing in general, make sure to schedule a FREE Consultation today.