In 2023, as businesses continue to recover and adapt from the global pandemic, it is crucial for small businesses to leverage effective digital marketing strategies to maximize their reach, engage their target audience, and drive sustainable growth. According to surveys, more and more companies are spending on digital marketing as compared to traditional marketing to grow their business. In this article, we will explore key digital marketing tips for 2023 that have proven to yield significant results.

From harnessing the power of social media and search engine optimization (SEO) to embracing personalized content and leveraging data analytics, we will delve into the latest trends and top digital marketing tips for 2023 that will help small businesses thrive in the competitive online marketplace.
Why Small Businesses Face More Competition Today?
Small businesses today find themselves navigating a landscape that is increasingly saturated with competition. Several factors contribute to this heightened level of competition.
Firstly, technological advancements have made it easier for entrepreneurs to start their own businesses, resulting in a surge of new market entrants. The proliferation of e-commerce platforms and social media has lowered the barriers to entry, allowing individuals to reach a global audience with relative ease.
Additionally, consumer preferences and behaviors have shifted towards online shopping, favoring convenience and competitive pricing. This has led to a surge in the number of online businesses vying for customers' attention and loyalty.
Furthermore, larger corporations have also recognized the importance of capturing the online market share, intensifying the competition for small businesses. To thrive amidst this increased competition, small businesses must focus on establishing a unique value proposition, delivering exceptional customer experiences, and leveraging digital marketing strategies to differentiate themselves in the crowded marketplace.
Why Digital Marketing Is Important For Small Businesses?
Why Digital Marketing Is Important For Small Businesses?
Enhanced online visibility: Digital marketing techniques such as search engine optimization (SEO) and social media marketing help small businesses increase their online presence, making it easier for potential customers to find them.
Targeted audience reach: Digital marketing allows small businesses to reach their specific target audience with precision, ensuring that their marketing efforts are focused on the right people who are more likely to convert into customers.
Cost-effective marketing: Compared to traditional marketing methods, digital marketing offers cost-effective strategies such as email marketing and content marketing, allowing small businesses to maximize their marketing budget and achieve a higher return on investment (ROI).
Improved customer engagement: Digital marketing enables small businesses to interact with their customers in real-time through social media platforms, email campaigns, and personalized content, fostering stronger relationships and increasing customer loyalty.
Performance tracking and analytics: With digital marketing, small businesses can measure the effectiveness of their marketing campaigns through data analytics, allowing them to make data-driven decisions, optimize their strategies, and continuously improve their marketing efforts.
We have compiled a list of ten best digital marketing tips 2023 that will help you increase your engagement along with your conversion rates.
Let's jump right in!
Best Digital Marketing Tips For 2023
1. Create Your Official Business Website:
As a business, it is essential for you to develop a user-friendly, modern, and creative website. Web design plays a key role in improving your Dwell time, that is, how much time a user spends on your website.
A website with a creative design and a good color scheme will increase your website traffic as opposed to a non-mobile-friendly website with an unattractive design. Images, videos, banners, maps, slideshows should be incorporated according to your business requirements.
You could use online CRM development tools like WordPress, Wix, Shopify that can get your website running in no time with little effort according to your budget and industry.However, these methods are both pros and cons. Whichever technique you choose , it is important that your website is modern,responsive, reflects your brand and has an impactful content.
Additionally, carefully develop a logo, select a domain name, and install plugins for functionality. For instance, AppWowZap has a great web design due to its attractive logo, sliders, color scheme, to name a few.
2. Make Sure Your Website is Mobile-Friendly
As the use of mobile devices continues to soar, ensuring that your website is mobile-optimized becomes increasingly crucial. By optimizing your website for mobile devices, you create a seamless and convenient user experience for your customers. Time flies when users are engaged and having a good experience, which is precisely what you want to achieve.
Additionally, a mobile-optimized website plays a vital role in meeting Google's "Core Web Vitals" criteria, which assesses factors like speed, visual stability, and responsiveness. Prioritizing these metrics can positively impact your search rankings on Google. It's important to remember that accessibility on both mobile and desktop devices is key. With a majority of users accessing websites through mobile devices in 2023, ensuring an enjoyable mobile experience becomes paramount to engaging your customers effectively.
3. Strategize Your SEO:
Search Engine Optimization (SEO) is one of the highly recommended digital marketing tips for 2023 to boost lead generation. It is a long-term strategy with ongoing benefits that help your website rank high. If your website is on the second page of a search engine then you're not leveraging the maximum potential of your website.You can optimize your website content by using certain keywords that have high search rates. Thus, ensuring that your target customers find you when they are ready for business.
According to BrightEdge, 53.3% of your website traffic comes from organic search so make sure to invest in an SEO strategy. Net Marketshare reports that Google remains the top search engine generating about 75% of global desktop search traffic while Bing generates 9.97% and Yahoo generates 2.77%. Google Keyword Planner, Ubersuggest could be your best bet.
Further, your content must have effective metadata and a prominent title so that it appears on SERPs. Focus on On-page SEO, Off-page SEO, Back-link Building, Technical SEO, Local SEO, and Mobile SEO.
Related: SEO Basics
4. Content Marketing:
Among the best digital marketing tips for 2023, content marketing is extremely essential no matter which industry you're in. An impactful content develops your firm's authority. Sharing data-driven content like reports and research studies will increase your firm's credibility. Similarly, you can conduct primary research through focus groups, surveys, observations. This could include reports on digital marketing trends, mobile gaming statistics and so much more according to your firm's niche.
Not only does effective content boost SEO and website traffic but it also establishes your firm expertise in a certain area. Additionally, listicles have gained popularity due to the ease of skimming and comprehending. They generate 2 x more shares than regular blog content. Neil Patel, Mailchimp creates good-quality content.
5. Add Video Content In Your Marketing Strategy:
Videos are overtaking infographics and blogs and should be a mainstay of your content marketing strategy.
When creating video content remember to keep it short and interesting, since your target audience may have a low attention span. The optimal length for your Instagram video should be from 20 to 60 seconds. Video for Twitter should be less than 30 seconds while for Facebook it could be less than 2 minutes.
Kylie Cosmetics, a makeup brand by Kylie Jenner, has various video content on their social media platforms. They post videos on product information, various makeup tutorials, behind-the-scenes footage, and much more to keep their audience engaged.
6. Invest In Social Media Marketing:
One of the most useful digital marketing tips for 2023 is utilizing the potential for social media. A great way to connect with your potential customers is through social media. Moreover, it can generate enhanced inbound traffic, conversion rate, search engine rankings, and lead generation.
Social Media advertising on platforms like Facebook, Instagram, LinkedIn, Twitter, Snapchat, and Pinterest can instantly boost your brand awareness along with boosting your brand loyalty.
For instance, Facebook Ad Manager customizes your ad campaign according to your business objectives such as brand awareness, reach, traffic, lead generation, engagement, to name a few.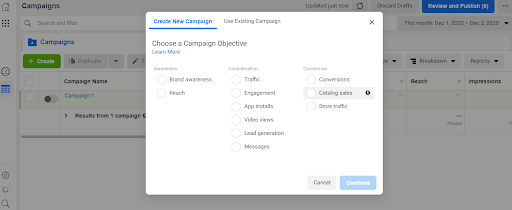 7. Adopt Email Marketing:
When we talk about the most effective digital marketing tips 2023, email marketing is a must. According to Statista, more than 350 million dollars was spent by the U.S. on email advertising in 2019. Additionally, in 2020 there are almost 3.9 billion email users and this figure is expected to rise to 4.3 billion by 2023. Hence, you must adopt email marketing to target a large audience.
Your email strategy may include your firm's newsletter, product announcement to name a few. Personalization can lead to a successful email marketing campaign. Furthermore, latest email platforms like Mailchimp, HubSpot, Salesforce can help you achieve your business goals by increasing your ROI.
Various aspects should be considered for an effective email marketing campaign like segmentation of database, striking subject line, creative email design to name a few. Conversely, spamming, lengthy forms, excess graphics should be avoided in your email campaign.
8. Incorporate Paid Advertising:
With the integration of Google's PPC and PPI Ads, you can instantly boost not only your website traffic and lead generation but also increase your online sales.
PPC stands for pay-per-click and it entails that your firm pays an amount to the host website when a user clicks on your advert. This boosts lead generation and website traffic.
Contrarily, PPI stands for pay-per-impression and you pay every time your ad is displayed to users. It enhances your brand visibility through image, text, and video ads on Google Display Network.
Therefore, when you make a list of the best digital marketing tips for 2023 for your small business, make sure you add paid advertising.
9. Set up Affiliate Marketing:
The most trusted information source is word-of-mouth (WOM) or recommendations. Business spending on affiliate marketing is expected to hit $8.2 billion in the U.S by 2022. Referral programs or affiliate marketing is promoting a firm's products in return for a commission. Your customers can sign up for your referral program and promote your products, thus increasing your conversions.
10. Hire Professionals:
If you're not an expert in digital marketing and feel that you can't generate the results you desire, then hire professionals. AdRush Digital is a Full-Service Digital Marketing Agency that caters to a global clientele. With a highly experienced digital marketing team, we help solve your modern-day business challenges.
Not only do we customize your digital strategies to increase your ROI but we also provide consultation services. Some of your services include Social Media Marketing, Email Marketing, Content Marketing, Search Engine Marketing, and Search Engine Optimization (SEO)
Schedule a FREE Consultation today.
All these above-mentioned tips will aid you in achieving your expected targets.